How to protect concrete substrates subjected to low temperatures? Find out now!

(storage tank)

Description of the application environment

For sustainable protection of concrete substrates is recommended to use a protection system which meets all environmental factors. Otherwise, it can lead to erosion caused by chemical influences.
In this case, the concrete bottom of a liquid storage tank was protected by a special system, Proguard CN-1M W4 to be more precise.
Chemical stress is always present in the storage tank. To deal with the acidification process (pH value <3!), ProGuard System CN-1M provides the necessary protection to this type of environment.
There is a "winter version" of the product


This type of system contains a number of agents that allows easy application even at low temperatures down to - 10 ° C.
First of all, the surface should be properly prepared and cleaned. The edges are pre-treated with a brush. Subsequently, a thin layer of rubber was applied.
To superimpose layers and to obtain a homogeneous surface, a spiked roller was used. Low viscosity material help fill the pores of the concrete surface.
The product is applied directly without the need of a primer, which means fast application and avoidance of long shutdown times. The surface of the storage tank (25 meters diameter) is approximately 490 m2 and the application was made in a single day.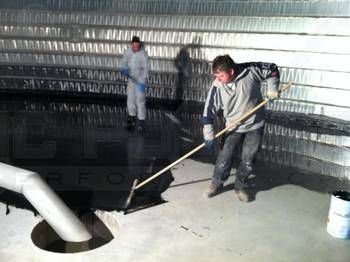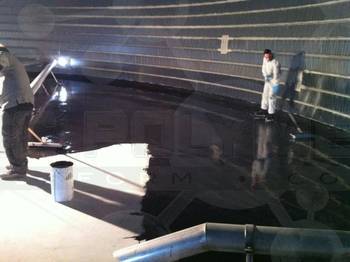 (application process) (application process)
Benefits offered by the Proguard CN-1M W4 protection system

• Excellent chemical resistance
• Permanent thermal resistance at temperatures up to 150 ° C
• Resistance to abrasion and wear
• Excellent adhesion to the surface
• Applied directly on concrete substrates
• Application is made using a single layer
• Application and drying even at low temperatures, dry ambient temperature to -10 ° C
• 100% solvent-free
• Physiologically harmless after curing
We are available for any questions related to surface protection. Click here for out contact details. Choose now reduced maintenance costs and a safe environment for employees!
Source: http://proguard-coatings.de/index.php?id=38&tx_ttnews%5Btt_news%5D=323&cHash=cc36e10ef7b0ec87710aee0fb033d478